Do you ever wake up with a feeling that no matter how long you've been in business for and how much you've been trying, you still feel like your business is in chaos and not well organized, and your work is spread across many separate task management systems. That you are constantly struggling with tasks, assignments, monitoring the projects? And you wonder why? Let's say you do have solid or strong IT knowledge, you are a well-educated expert in your field, but something is missing. You have all the prerequisites to succeed. Yet, you feel like you are always that one little, but such a significant step behind. What if there would be a set of tools that could help you with that final step? Well, there is. There is an array of project management tools to assist an individual or team to effectively organize work and manage projects and tasks.
Here, we will cover the major project management tools: Asana, Jira, Trello, and Basecamp so you can see what might work best for you.
Overall, they offer the following features: planning/scheduling, collaboration, documentation, evaluation. Even more generally, they help you restore organization balance and make your work more efficient and less chaotic. But let's look at them in more detail.
ASANA
You may wonder what yoga and this tool have in common apart from the same name. Don't think for a moment it is a sheer coincidence. It isn't. In yoga, asana refers to the state that requires extreme flexibility, core strength, and/or coordination. The same could be said for the Asana tool. It displays the same qualities. Asana is a SaaS, designed to improve team collaboration and work management. It helps teams manage projects and tasks in one tool. Teams can create projects, assign work to teammates, specify deadlines, and communicate about tasks directly in Asana. It also includes reporting tools, file attachments, calendars, and more. The latest interactive feature called Timeline saw the daylight in 2018- businesses can use it to visualize and map out their projects.
Asana is one of the most popular project management tools currently available on the market and one of the leading project management solutions. It has an interface that allows users to see what tasks they have done or what is still on their plates and what is due. Thus, project managers can ensure that their team members are focused on their goals, and with clear and easy-to-find instructions of what they are supposed to do. Asana focuses on team communication.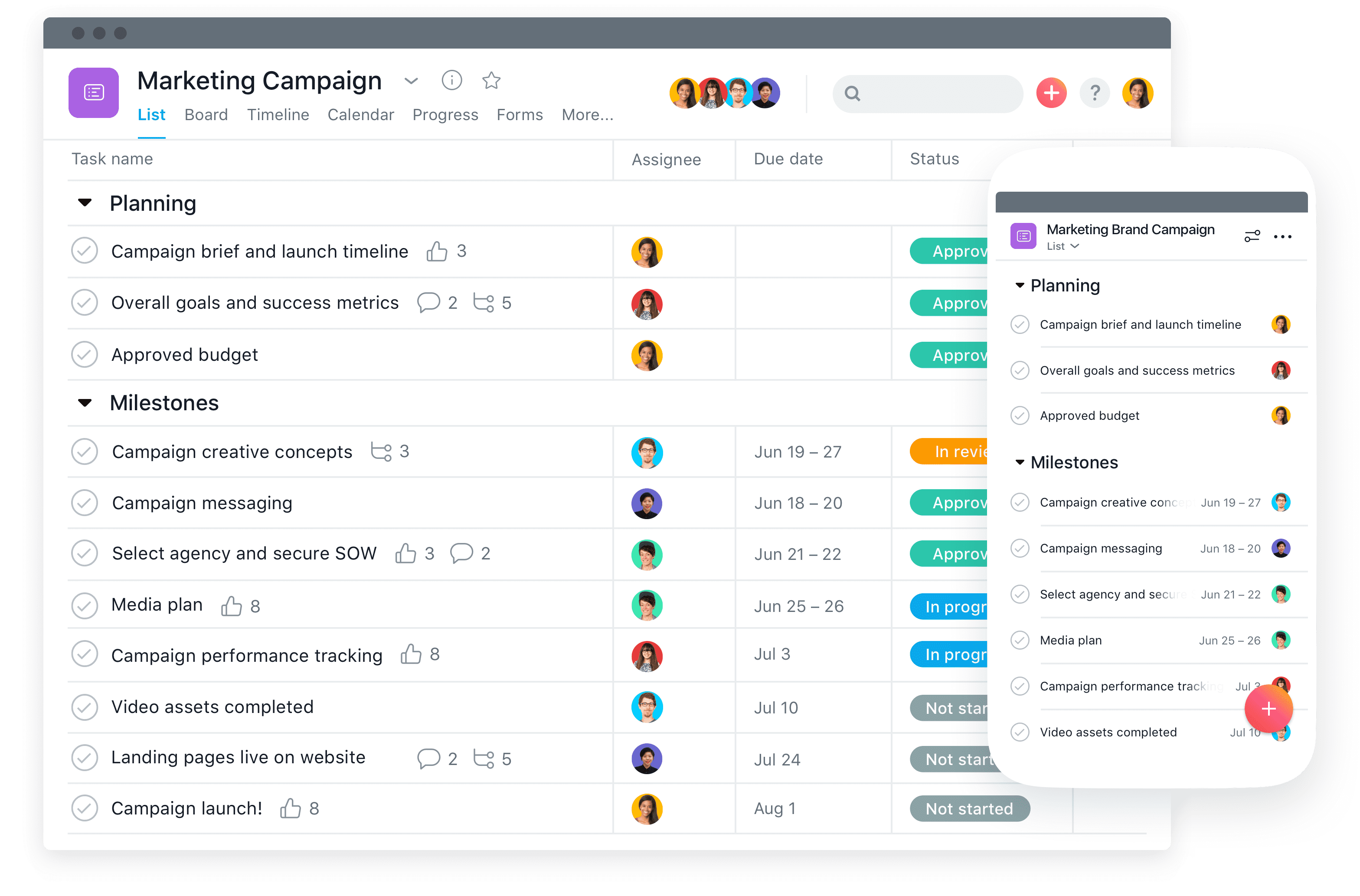 With the dashboard that updates information in real-time, Asana facilitates smart decision-making throughout a project's workflow. Work can be organized into shared projects as lists, and teams can create tasks within those projects for meetings, programs and initiatives. Teams can also assign permissions for each member and share project-related documents without having to use email. You can use Asana for a range of activities from company road mapping to day-to-day operations.
Asana is not meant just for task management, it is a communication super tool that helps the whole company collaborate on common goals. Asana helps users in the company keep track of their activities and break up projects into smaller, actionable tasks. One of the things that make Asana very popular is its neat looks, the fact that everything is in a single place so you can easily check the status of a project and tackle occurring problems at no time. It also seems that Asana is more suitable for the Lean methodology based on concepts and principles of lean process implementation. Due to all of these features, it is more compatible with the Scrum approach rather than Kanban, because you can organize repeating tasks, organize tasks with one and even several ongoing and overlapping projects, follow their track and implementation of the team members, which is a must for the scrum. 
When we talk about the size of a company, Asana seems to be better suited for smaller, non-software teams. It offers an easy-to-use tool with a basic layout that's great for teams whose products aren't too complex. You can get a free option for up to 15 people where although you have access to limited dashboards and search functions, you are allowed unlimited-task projects and conversations. However, that doesn' mean you can't go big with Asana-it can also manage bigger teams that are collaborating on bigger projects.
JIRA
Jira is a bug and issue tracking, and project management tool developed by Atlassian. The origin of the name is interesting, it comes from a Japanese word Gojira, which means Godzilla. The name does it justice, for Jira is considered to be in a heavyweight category, designed for elaborate processes when you need to customize a lot of components to fit them. Funny tip: According to the developers "the name JIRA sounds best if you yell it loudly, as though charging into battle." Truth be told, if you are in need of Jira or any other project management tool, you probably feel like you are charging into battle with proper organization, work, team and time management. So, after you've let some steam off by yelling Jira outloud, let's see if Jira might be the right solution for you. At its core, Jira was designed to help software teams plan and track their projects using agile project management, which focuses on efficiency, continuous releases and customer feedback. Software teams can use Jira to plan, track, release and report on new software or software upgrades. They can also use Jira to track any issues.
One of the best features of Jira is that it is highly customizable; It has built-in or customizable workflow templates and tools which allow you to tailor Jira to the way your company operates. Unlike Asana, Jira is a project management tool for agile teams. Agile teams can stay focused on delivering iterative and incremental value, as fast as possible, with customizable scrum boards. Scrum boards aren't the only ones that Jira supports. In addition, it supports Kanban boards which give your team full visibility into what comes next, the output and cycle times. Teams can access multiple reports such as sprint reports, burn-down/up charts and velocity charts that offer real-time visibility into a team's performance.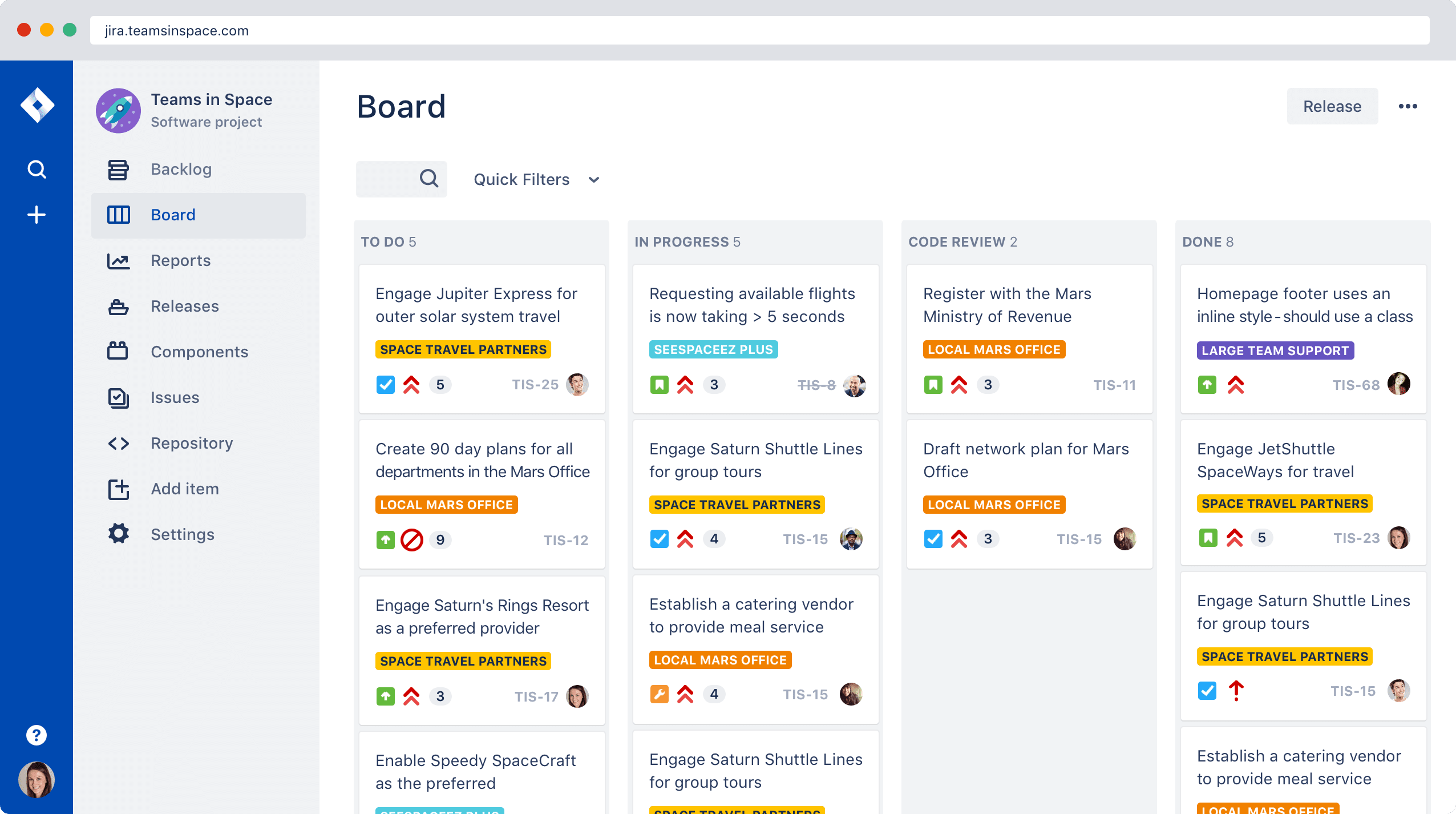 Yet another interesting feature of Jira is Portfolio. It is a tool that enables your team to create roadmaps for your projects, sketch out the big picture, create stories for your projects and a multiple scenario planning, the capability to estimate start and end dates for projects, etc.
Since it is more complex than Asana it can take up a lot of time to set everything up and to train a person how to use it. The interface isn't as intuitive, too.If compared to Asana, Jira is more for larger-scale projects and since it was designed for software teams, it mainly targets people working on software development projects. It doesn't offer any free packages, which can play a role in choosing Jira depending how much you are strapped on cash.
TRELLO
Trello is the youngest sibling in the Project Management tools family. It is 9 years old and despite its young age it has become quite popular. Its name might depict its still developing age nicely-it comes from the word trellis – an open framework used to support the growth of plants and trees. And surely, being the youngest, Trello will have to continue growing if it wants to surpass its older siblings. Still, this little fellow has some great things to offer. It is an eye -catching, fun and intuitive app that helps people collaborate around work. It offers Kanban-style boards, cards and lists, along with drag-and-drop functions to help users organize projects and track project's progress. Users can create their task boards with different columns and move the tasks between them. Typically columns include task statuses such as To Do, In Progress, Done.
Trello organizes your projects and day-to-day tasks by creating notecards on the dashboard. If we compare Trello to other Kanban apps, it does have some shortcomings such as swimlanes and work-in-progress limits. This way, Trello falls somewhere in between a project management tool and a kanban board app. One unique feature of Trello is its Power-Ups. Power-Ups turn each board into what Trello calls "living applications" by adding different features and integrations. Integrations can include document management solutions, social media or business functions such as HR, marketing and IT.
What makes Trello extremely popular is its easy set-up, use and the freemium model. The free version of Trello includes an unlimited number of boards, lists, members and attachments. The paid versions are still quite affordable which makes them very popular with smaller companies and start-ups. Another distinctive feature of Trello is its high flexibility. You can get as creative as you want to and you can fully customize the boards you create. At the same time, it is a bit of a disadvantage, because it is that absolute freedom that sometimes actually makes it daunting for you to figure out how to best use the service. In other words, there might be a lot of tinkering around and trial and error until you find what works best for you. Trello is working on this problem by creating a set of new templates to help you get started. Another disadvantage is that
Trello isn't suitable for managing complex projects. It is lacking features specific to project management such as Gantt charts, built-in reporting tools, time tracking. Moreover, Trello doesn't support hierarchies that show relationships between tasks and projects. Users have also reported that Trello could add more flexibility and customization for arranging cards, instead of just arranging them in a linear fashion. It makes it harder to track information over a longer period of time. Bottom line is that despite some shortcomings it is a great intuitive collaboration tool. Whether you would use it or not, depends highly on your company's needs.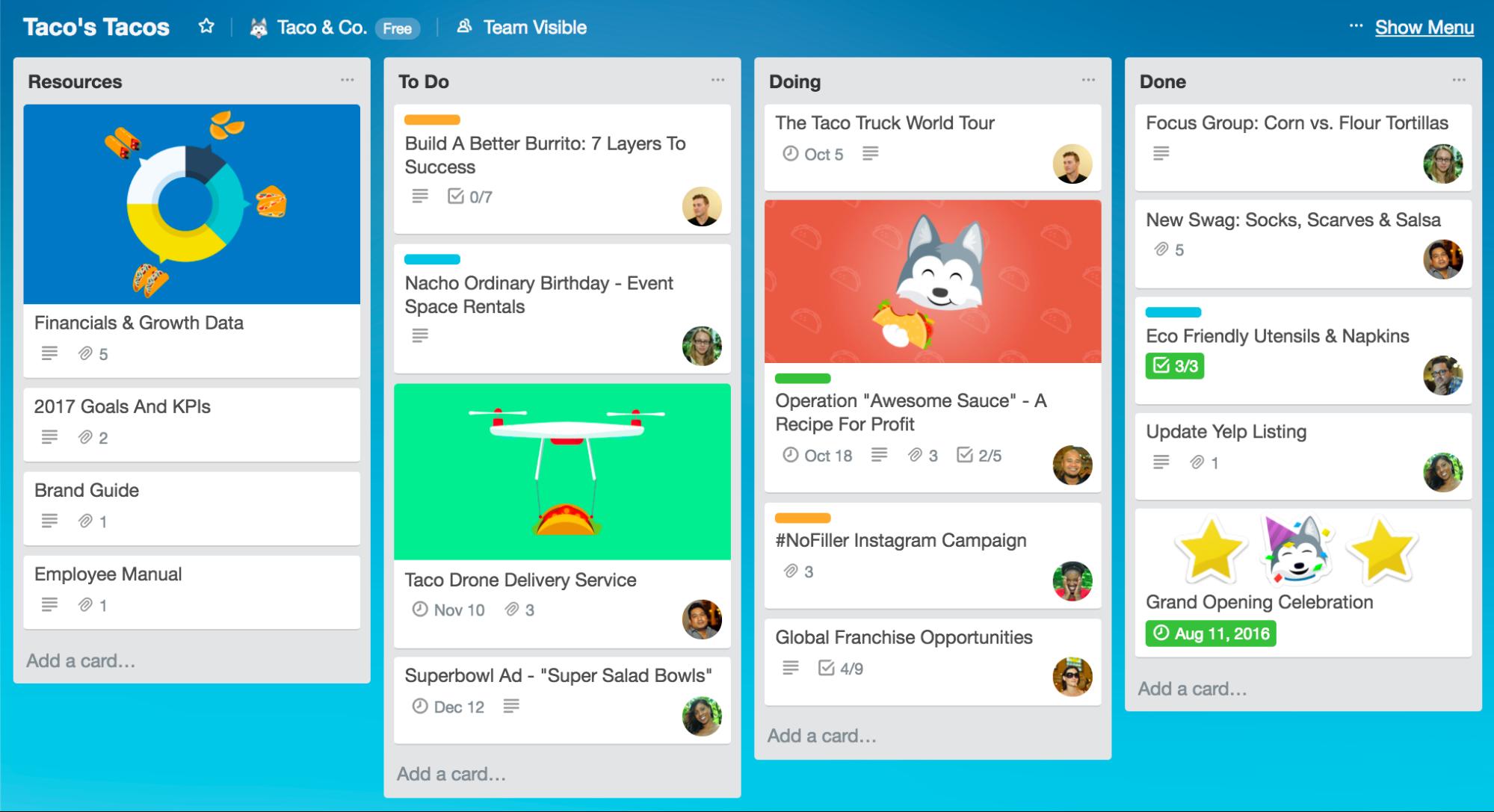 *Fun note number two: the doggy Taco at the right bottom of the picture is actually the co-founder's dog and acts as a Trello's spokesperson.
BASECAMP
Basecamp is a project management tool that helps with team collaboration, file sharing, and project organization. You can upload files to discuss, assign and track tasks that need to get done, and have ongoing conversations with both colleagues and clients. The latest version is Basecamp 3 and we will focus on that one. This app lets people work on projects, events or assignments. Its somewhat freeform style is making it very flexible and quite appealing. If you need a place for a group to collaborate and they don't already have a rigid system of working in place, Basecamp may be a great place for them to start. It is also easy to set up. It has a user-friendly interface with a homepage separated into three different sections: Company HQ, Team and Projects.
HQ is composed of company-wide announcements and notes. Under that is a section for specific teams, like your customer service or marketing team. Furthermore, each section comes with many collaboration tools like group chats, message boards, to-do list etc. You do get a lot of tips on the features you are installing with Basecamp. It might get over- explanatory at times, but it is helpful if you are still trying to find out what exactly you need from each feature. In that way, it might be better for more inexperienced teams.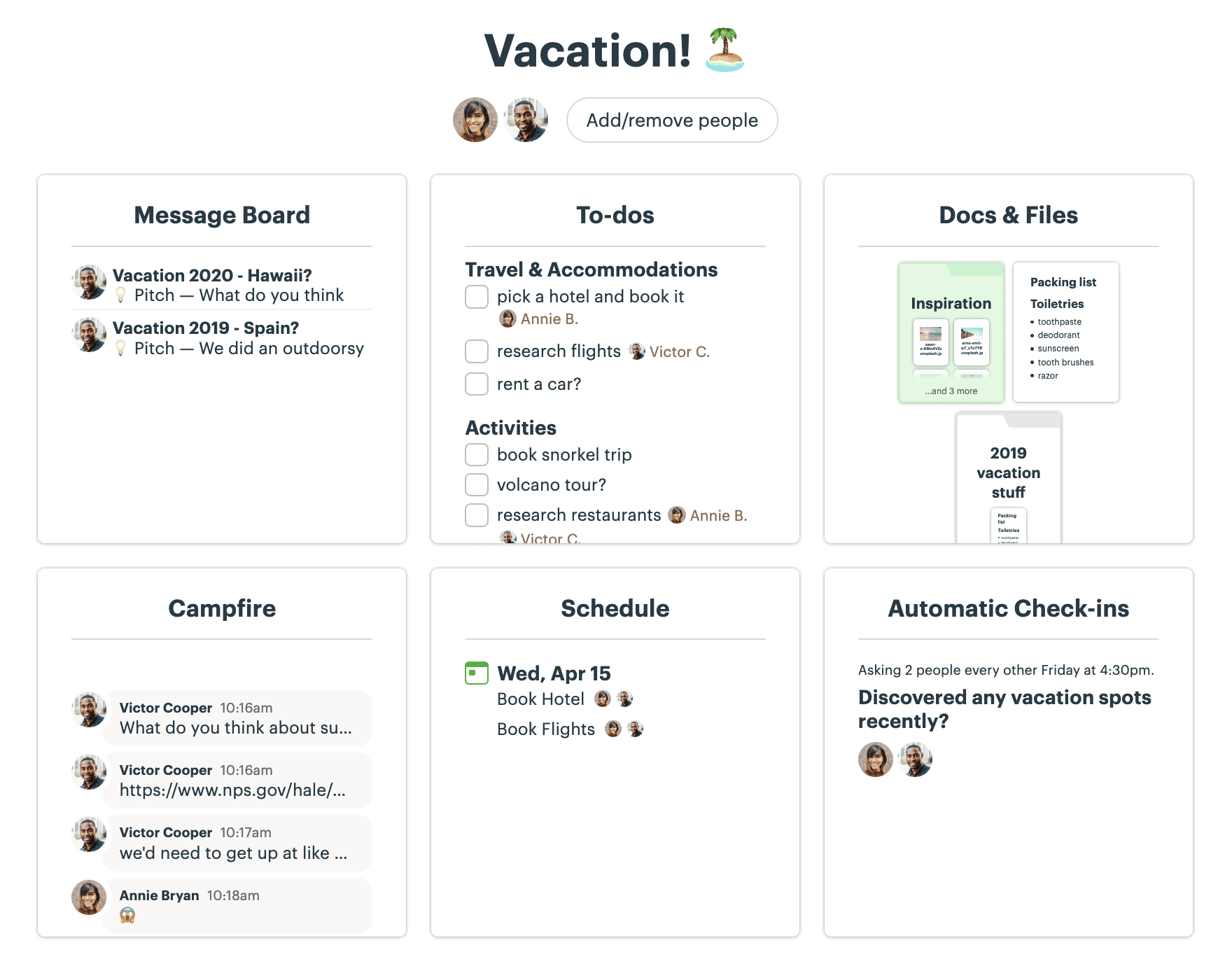 Pricing is an area where Basecamp rocks -it offers a flat price regardless of the package. Also, apart from the amount of the storage space, all other features are unlimited regardless of the subscription model. It offers special discount prices for very small teams ( for half a price!) and 10% discount for nonprofit organizations and charity. It is a good candidate for small and medium -sized businesses.
Same as its counterparts, it isn't perfect. It is lacking "true" project management features like Gantt Charts or time-tracking. Both of these are extremely important for collaboration. It does offer integrations with features like time-tracking, but they aren't natively available in the application, so they involve third-party integrations (sprints tracking and scrum/kanban boards). Another shortcoming, at least according to some users, is that the high-level navigation is out of the window the moment you dive into any other project or team. The other types of information become invisible so to say, and it makes it confusing to track properly what it is being done at that moment. In other words, the layout and workflow aren't exactly smooth.
Overall, it is an extremely lightweight tool for online collaboration. It is flexible and it offers a lot of features, though some involve third-party tools.
CONCLUSION
You definitely have a lot to process. If you are still not sure whether you'd benefit from any of these tools, try asking yourself the following questions:
Are you still monitoring tasks and projects manually?
Is your work spread across many other tools?
Do you think you have a problem with time-tracking and end up being inefficient?
Are you using onsite software installation instead of the cloud-based application?
If you answer to most of these questions, then yes, you do need one of the project management tools.
And although there has been a lot of comparison between these tools, the fact remains that there isn't really a universal answer which one is better, or the best- it really solely depends on your type of business, business structure and company. You'll probably have to try more than one, if not all, to find the perfect fit.
The last thing I will leave you with is friendly advice- project management tools themselves won't organize nor manage your job instead of you. As the name suggests, they are only tools to help you out. In most cases, hiring an experienced Project management team will definitely take a huge burden off of your chest, because they would deal with all the nitty-gritty parts of the project, being some sort of a guide for you and your business, so you can focus your time and energy on things that you are an expert in.
ABOUT US
Let's start with Luciano Castro, founder of the company. Luciano is a business-driven manager with over 15 years of experience as a CTO and CEO in multinational companies and startups. He has a strong technical background in IT and excellent management skills and is in love with Agile and Lean methodologies:
15 Years of experience
8 Certifications
11 Books published
But, there is no I in the word Team, so Luciano isn't the only person you get when you choose us. 
You will get a team of seasoned Project and Product Managers specialized in Scrum, Waterfall, Design Thinking, and Lean. We have more than 2000 projects under our belt both with small and big teams. We also possess multiple certifications in PMP, Agile, Scrum, ITSQB, ITIL, and Microsoft. These numbers are impressive but we wouldn't have been able to do it successfully without being dedicated, passionate and working hard to provide the methodology and approach that suit you best. We will manage every stage of your product's journey and organize your tasks and projects by phases and priorities. 
Our team will be there to continually track every step of the process and help your business grow even more. 
Articles that we recommend:
Sources:
https://www.pcmag.com/reviews/basecamp?test_uuid=03VgQESfXzdGbpM9u5nO4tq&test_variant=a
https://www.slideshare.net/Techticsolution/6-best-project-management-tools-comparison-jira-vs-trello-vs-ms-project-vs-basecamp-vs-asana-vs-wrike-194309766
https://www.betterbuys.com/project-management/reviews/basecamp/